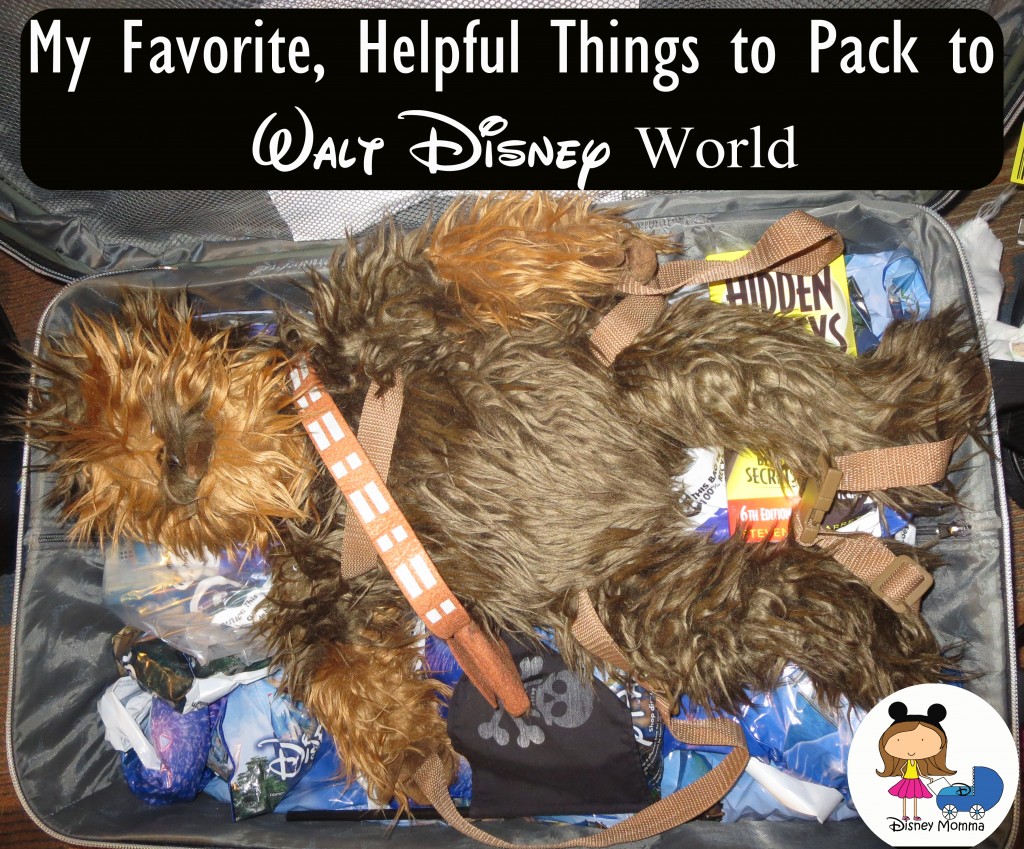 When you're heading on a Disney vacation, there are always big decisions to make about what you should or shouldn't pack along with you…especially if you're taking young kids along with you. (Let's face it: Kids require a lot of stuff!) I've made a list of several of the things that I am SO glad we brought with us on our family vacations. I hope they help you with yours as well!
Zip Bags
It is so helpful to have zip-top bags on your Disney vacation. We bring A LOT of them in various sizes: gallon, sandwich, quart, and maybe even a few snack bags. You can use them for all kinds of things! I keep one in the front of the bag that we carry in the Parks, so I can safely save my receipts and little mementos (like the stickers from Cast Members or maybe even a fun wrapper…Scrapbookers understand how important this is!) They're great for stashing away your camera or phone during a rainstorm or a wet ride. Your kids didn't finish the giant Rice Krispie treat that you just paid $5 for? No problem! Put it in a bag for later! You could also use them to let each child separate the little souvenirs they get, especially pressed pennies.
Shower Curtain Liner and Clothespins
I found this idea years ago on someone's blog and I wish I had the source still because she was brilliant. We've been really lucky to be inside most of the time during the Florida downpours, but most attractions and restaurants at Disney World do not allow strollers inside. So, when the rain has passed, you're left with a soaking wet stroller. Don't worry about buying a pricey stroller cover; just bring a cheap shower curtain liner and a few clothespins. I bought a clear liner from Walmart for a little over $2. I slit one corner of the package, slipped 4 or so clothespins inside, and taped the package back up. When it started to rain, I quickly covered our stroller and used the pins to clip it to the canopy in a few places so it wouldn't blow away. We were so happy to find our dry stroller after the storm! The clear curtain allowed us (and everyone else with a stroller) to see that the stroller was ours. To clean it up, we stuffed it in–what else?–a gallon-sized zip bag and shoved it in our backpack to take back to the hotel with us. That night, we draped the curtain over the shower so it could dry. The next day, we folded it up and brought it along again in a zip bag! Perfect solution for very little money!
Surge Protector
Most people bring a lot of electronics to Disney World. We had a laptop, 2 cameras, an extra camera battery, a video camera, and 3 cell phones. Each night, we'd get them charged up for the next day. How is that possible in a small hotel room? (We stay in Disney value resorts.) We pack a surge protector or two!
Note: Some newer Disney resort rooms (like the Art of Animation suites) are equipped with charging stations, but I would still bring a surge protector to be safe. No one wants to start a day at the parks with a dead/half-charged camera!
Breakfast Bars
I figured up how many breakfasts we would need and bought a large box of granola bars from Sam's Club. This saved us money by allowing us to not buy breakfast each day and it saved time because we could eat on-the-go. We could eat in the resort room while others finished getting ready or even while we were standing in line for the shuttle to the park.
Tip: With our little ones, we'd often stop in the resort food court at night and buy a milk or juice to keep in the resort fridge for the next morning. They do carry whole milk too, if that's what your child drinks.
Dish Soap
I use this tip when I vacation anywhere with babies. I pour a little bit of dish soap into a small zip bag. Then, put that bag in another bag to prevent leaking. Put just a bit on a washcloth to wash sippy cups or pacifiers when you're in your hotel room. You don't have to pack as many if you're able to clean them. (This is great, too, for refillable resort mugs that come with Disney's dining plans.)
You could, of course, pour the soap into a little travel bottle instead, but I like that the zip bag packs flat and doesn't take up much space. Do make sure you double (or even triple) the baggies, though, to prevent a mess in your suitcase.
Cheap Ponchos
Look at your local Dollar Tree or other dollar store for cheap ponchos. It does rain often in Florida and that rain usually comes in quick, heavy downpours. It just may save you from a day in soaking wet clothes, plus the cost savings versus buying Disney ponchos. After you use them, stuff them in one of those extra zip bags that you brought along. Hang them on a hanger to dry at the hotel so you can use them again.
Postcard Stamps
I love sharing the magic and sending postcards from Disney World. Postcards require less postage than a regular letter, and I don't want to waste my precious Disney time by standing in line to buy stamps. So, I figure out ahead of time who I will send cards to and bring the postage with me from my local post office.
Address Labels for Friends
I used to bring a list of addresses to use for postcards, but it saves a few minutes to have the address written/printed ahead of time on adhesive address labels. Just pop them right onto your postcard!
Your Own Address Labels
When my sister went on her first trip to Disney World, she lost her camera (and all of her pictures) at a gift shop. She was devastated. From her experience, I've learned that it's a good idea to label your important items with your own address and cell phone number. I wrote my phone number on some return address labels and cut them to fit onto important things, like our camera and all of our chargers. (It would be so easy to leave one of those behind at the hotel! See my "Surge Protector" photo above to see our labeled chargers.) I also write my cell number with a fine point Sharpie on my camera cards and camera batteries, in case I lose an extra one that isn't loaded into the camera.
Maybe you'll never lose anything of value at Disney (hopefully you won't!), but it's a smart idea to be prepared.
Birthday Cards
If your Disney vacation falls during someone's birthday/anniversary/baby due date…, pack a greeting card into your Park bag and have a character sign it! They're happy to do this and it is so fun to send a little extra-special, Disney magic to someone you care about. To improve this even more, City Hall in the Magic Kingdom has a special stamp that says that it was mailed from Main Street USA. Stop in and ask them to stamp your mail!
(You can find some greeting cards in the park, but not at every store. I like to save myself the vacation time and just bring a card that I'd already purchased at home. They don't take up much packing space, after all!)
Water Babies Sunscreen
When my family goes to Disney World, we are there from morning until after closing time. Only once have we gone back to the resort for a nap. So, we're in the sun a lot. My fare-skinned family has never gone home with a bad sunburn. On our last trip, a life guard even asked us how we managed to not be burned on the last day of our 8-day trip. We all used Water Babies SPF 70 sunscreen. We apply it in the morning and a time or two during the day (usually at mealtimes, when are stopped for a moment and we're near a restroom to wash our hands afterward). This "kid" sunscreen works great for us!
Stuffed Animals
If you're staying in a Disney resort, bringing stuffed animals add magic to your stay. I absolutely love doing this. We bring some smallish ones, so they won't take up much luggage space. Definitely worth packing. (What's so magical about having stuffed animals with you? Read more about it here!)
Hand Sanitizer
Have you ever thought about the number of people who pass in and out of Disney World each day? They come to Disney whether they're sick or not because they've probably had this trip booked for months and have been saving for it for even longer. You want to take precautions to protect your own dream trip from being tainted by sickness. So, pack that hand sanitizer! Put it somewhere reach-able (like on a hanging clip on the outside of a bag that you take to the Parks) and use it often.
Quarters & Pennies
I have collected pressed pennies since I was a kid and these machines are everywhere at WDW. Besides being fun to make, they have to be one of the cheapest souvenirs you'll find!
We stock up on shiny pennies months before our trip, saving them out of our pocket change, and we buy a few rolls of quarters from the bank before our trip. I use the now-famous Pinterest trick of stacking them in usable order: 2 quarters, 1 penny. Like so many others, we use a mini M&M tube, but what I like to use even more is a prescription pill bottle. It's a bit of a tighter fit than the M&M bottle, so the coins don't get jostled around inside as much when the tube gets low. Also, the lid closes much more tightly, so you don't risk it popping open.
We've brought along coin pouches or even little zip bags to keep every person's pennies separate so we can fill pressed penny albums when we get home. But, when I go again, I will fill the album as we go instead. That way, they're in the order that we got them.
Another tip: If you're an archiver like I am and you like to know where and when you got things, I put a little strip of masking tape on the back of our pennies to mark when we got them.
Pressed penny albums usually sell for $8.95. You can often find them by the registers at gift shops or on top of the penny machines.
So, there you have it: some of my favorite, helpful items to pack.
Is there something that you must have on your vacations?